But what if we told you renting in Montreal could look like this: brand-new, thoughtfully designed spaces in a close community of interesting neighbours where you can live a life full of things that are good for you and for the planet?
Imagine, if you will: It's 5 o'clock and the sun is setting out your window on another work from home Friday. You fly up the few steps that separate your apartment from the shared rooftop terrace and grab a comfy seat in the fading evening light, earbuds in, the faint aroma of flowers wafting your way. Next to you are two planters teeming with fresh mint and basil, so you decide to invite your neighbour to partake in a fresh herb mojito (we saw the recipe on Mordu) as you look out over your city. Yes please!
Sounds a little too good to be true, doesn't it? We can hardly believe it ourselves and yet, this is what every day is like for tenants in the new apartment residences popping up in every urban area. Designed for a lot of occupants, these developments offer a ton of perks you'd never get in a smaller apartment building.
Custom units with built-in WFH spaces flooded with natural light, tastefully appointed common areas where nature has pride of place, urban farming so you can eat better and connect with your neighbours. If that's not the definition of spaces that do you good...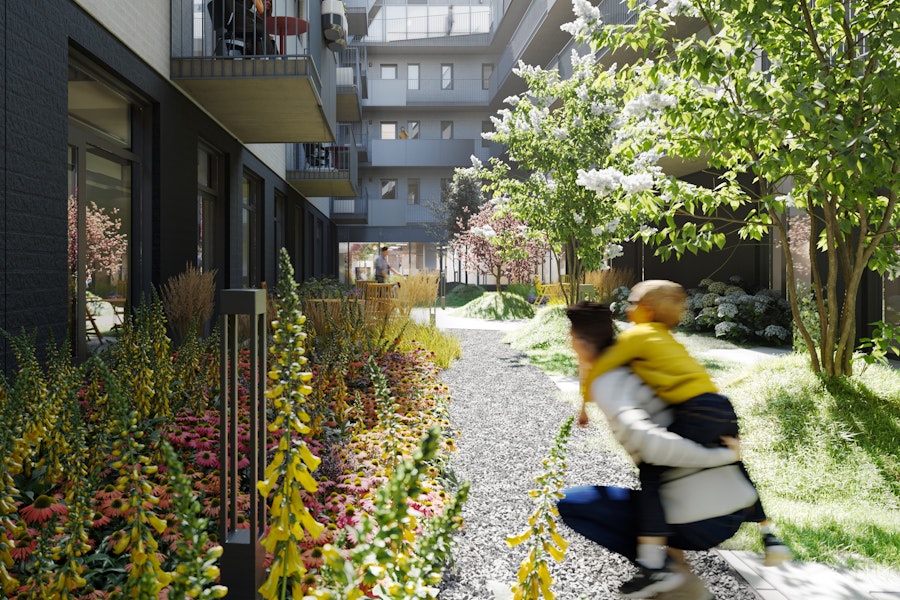 It's 8:30 the next morning and your weekend starts off strong with a self-paced workout sesh in the ground floor gym. After your burst of morning activity, a bit of comfort with a locally-sourced lunch. The organic waste goes right in the compost chute. No more excuses for not taking small steps that make a big impact. With lunch out of the way and a sunny Saturday ahead, you grab your trusty two-wheeler from the bike rack for an easy jaunt downtown to meet some friends. Montreal, you are beautiful.
Still sounds like a pipe dream? We've got a nice surprise in store for you: This could be your life. When buildings are designed in perfect harmony with the needs of their future occupants, you end up with to-die-for developments that put people and the planet first.
Granted, our description may sound more like the start of a novel (although we still won't be taking home any literary awards) than a real lifestyle residence in search of future tenants. But can we consider your curiosity piqued? Time to say goodbye to the slightly-too-somber, drafty two-bedroom and find a space that does you good right here.